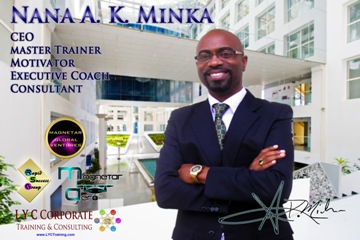 LYC Corporate Training & Consulting, a division of Magnetar Global, has a presence in the United States, United Kingdom and West Africa. Collectively its' Certified Trainers & Consultants have over 90 years of experience and hold 3 Doctorates (PhDs) & 5 Masters Degrees in various disciplines such as leadership development, business management, strategic planning, sales, international and cross-cultural relations, negotiations, project management, engineering (various), customer service, wealth management and education.
Our experience also cover areas such as behavioural sciences, circadian biology, chronobiology, biorhythmic analysis and their role in the Metaphysics of business.

Several years have been invested in the research, development and analysis
of Nun Cyclosis (Cycles Analysis) for the purpose of educating and enhancing lives and organisations.
After initially working with a select few, the many requests to educate leaders, managers, companies and organisations and to share this unparalleled training and self-development philosophy increased significantly. This gave birth to

LYC Corporate Training & Consulting

in the form of Training, Seminars, Motivational Speaking, Consultation & Executive Coaching.



---


Our Mission
We strive for perfection, and consequently, receive immense positive feedback from our attendees. We take our work and clients seriously, and as such, our training workshops are continually customised to meet the client's specific requirements. We value our clients' business and will go out of our way to ensure that each training session exceeds their expectations.



---


Our Services
LYC Corporate Training & Consulting is a specialised business management training and consulting company that offers training, consultation and executive coaching in Advanced Management, Leadership, Advanced Strategy, Success Training, Negotiations, Wealth Management, Human Resources, Customer Services and more.
Click on each image for larger view of our 2-sided brochure.
---


Our Clients
We serve numerous markets worldwide with clients and potential clients in the following areas:

Corporations / Companies

Existing & Aspiring Leaders

Small Business Owners & Entrepreneurs

Sales & Marketing


Banking and Financial Services

Education

University Students, Organisations, Alumni & Faculity


Government Institutions and Ministries

Human Resources

NGO's

Manufacturing


Telecommunications

Ports and Transport

Oil, Gas and Petrochemicals